Trademarks & Intellectual Property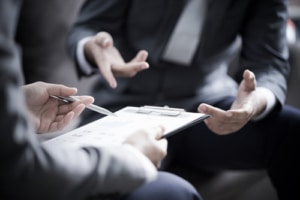 As a business owner, you know that your intangible assets are often more valuable than your tangible assets. It is vital to your organization or business that you retain a lawyer to advise you on your rights and who can protect your intellectual property investments. Some of your assets may include your trade or service mark, and the knowledge that gives your business a competitive edge.
BizLaw can assess your intellectual property standing and devise the legal documents and a protective course of action you can take to secure and maximize your intellectual property assets.
Please contact BizLaw for more information on any of the following intellectual property matters:
• Trademark registration
• Copyright protection
• Licensing agreements
• Service marks
• Trademark dilution
• Trademark infringement
• Trademark applications
• Foreign and domestic trademark filing
• E-commerce development
BizLaw can provide you with the most cost-effective approach to securing your intellectual property protections. We will provide you with a practical trademark, copyright, and patent evaluation and a comprehensive trademark search if necessary. Once we have assessed your needs, our attorneys can file your application in the appropriate jurisdictions and continue to manage your intellectual assets going forward.
Contact BizLaw if you are interested in more information about corporate services, contracts, trademarks, or a new or existing franchise. We would be happy to assist you.